The life and times of Pobol's Meic Pierce
Gareth Lewis is one of Pobol y Cwm's longest-serving actors. He plays the part of Meic Pierce, Cwmderi's cafe and taxi service owner.
I started working for the BBC in Bangor as a child actor at the age of 13. I've never ever wanted to do anything else since (except, perhaps, become an international concert pianist, which would be rather unlikely as I don't read music!).
Apart from short periods when I went to the Normal College in Bangor and worked in an office in Caernarfon, I have somehow managed to make a living as a professional actor. I was given a full-time contract by the BBC in 1970 and was the last actor who remained contracted by them well into the 90s.
Archive shot of Gareth Lewis as Meic Pierce in the Deri bar
There were some pretty famous names in Pobol y Cwm when I joined the cast in January 1975. Charles Williams, Rachel Thomas, Harriet Lewis (no relation!), Dilys Davies, Dillwyn Owen and Islwyn Morris to name just a few. The series had a prestigious start and I certainly felt privileged to be part of it, but I had no idea that Meic would still be around just about 40 years later.
Meic was a north Walian who had arrived in Cwmderi from a job as a photographer in Fleet Street, though how exactly he got that job in the first place was a bit of a mystery! I think that alongside Harri Parri (Charles Williams) he represented the quite deliberate policy of the producers of having a good representation of north Walians in the series, so that it would appeal to both north and south. In doing so, I believe it has united both parts of the country and made the accents more understandable than was previously the case.
There have been innumerable twists and turns in the life of Meic – including a short period in jail for robbing the local Post Office. Luckily, on his release, he saved the life of Maggie Post (the Postmistress) and all was forgiven.
The village has had more than its share of fires, floods and fatal accidents
He's had several girlfriends and several financial disasters (the hot dog van with Denzil being a prime example). He's discovered that he had at least two sons - one each with Nansi (Marged Esli) and Anita (Nia Caron) - and who knows how many others may come to light in future!
Meic hasn't been lucky in love – Nansi divorced him before he even set foot in Cwmderi (and still turns up periodically to haunt him!). Sabrina (Gillian Elisa) threw wine over him before ending their relationship, Olwen (Toni Caroll) decided to return to her husband rather than marry him, Anita (by then his wife) had an affair with Colin (Jonathan Nefydd) which led to another divorce!
Again luckily for Meic, Anita is now best friends with him and lives in his house. It's been turbulent – but who knows what the future holds for them both.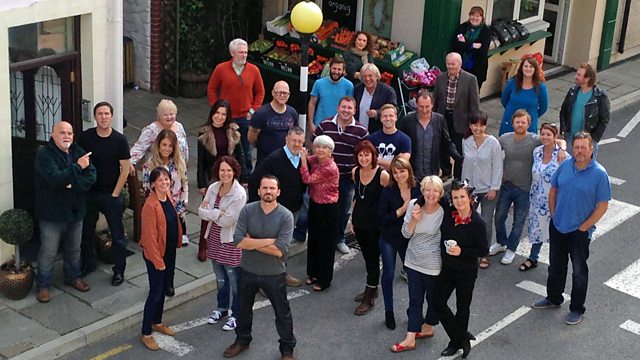 Current cast celebrating 40 years of Pobol y Cwm
I've enjoyed playing Meic over the past 40 years or so and hope the audience has enjoyed his trials and tribulations too. It's been a hoot! 
Pobol y Cwm at 40 is on Friday 17 October at 8.30pm on BBC Two Wales.